Performance Support Tools
Scalable support on the job
Performance Support is one method – only once the need and integration into corporate learning have been clarified does the question of the right tool arise. We offer you comprehensive advice, completely independent of our own solutions.
The Know How! AG EPSS
What use is all knowledge if your employees cannot find it quickly? With an Embedded Performance Support System (EPSS) you have a set of tools and formats that provides your employees with the required knowledge in an uncomplicated way.
Supporting change
Don't just present your employees with an EPSS, involve them from the outset to ensure the success of the new learning method.
Change Management Demo inquiry
AskDelphi
For experts: CMS with integrated client
Optimised for JTA and LEaP plan
Suitable for all topics
Includes desktop client
Nugget Finder
For beginners: Nugget search engine
Use without installation
Mobile-capable
Easy to extend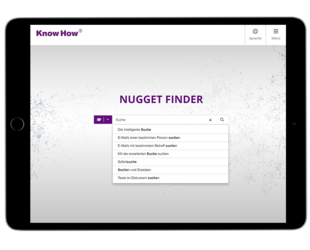 "easy search for quick answers"
(Video-)Nuggets are the ideal format for quick support with questions about Office etc. The little titbits of knowledge provide quick knowledge that is easily accessible in the Nugget Finder. Quick performance support with little learning units
Simple search engine
No software installation
Handy Ribbon integration
Searching can be so easy: select the desired application in the search engine and enter the search term. With the Ribbon integration, performing an e-learning search is even possible directly from within the Office application. The Nugget Finder is available in German and English as standard languages and can be customised to suit the required content. Our Microsoft Nuggets are available for:
Office
Windows 10
Outlook
SharePoint
Skype for Business
OneDrive for Business
etc.
From the task to the structure
A project manager who needs to send an appointment for a virtual team meeting via Skype for Business doesn't want to have to work through a whole WBT first, which is why content in AskDelphi is not prepared according to subject areas, but according to tasks.
The content structure of AskDelphi is based on the performance support pyramid, the aim of which is to provide people with exactly the information they need to do their job at the moment of application, depending on the situation. The pyramid is thus divided into six levels. The user usually gets started with the task and works their way up to further details and in-depth knowledge as required.
Content Curation
Prozesse sind dynamisch: Aufgaben ändern sich, Know-how-Träger wechseln. AskDelphi schafft Raum für einfachste Content Curation. Inhalte können jederzeit von berechtigten Personen über ein leicht zu bedienendes Backend angepasst werden.